Dental Crowns in Mississauga
Dental crowns can simultaneously strengthen, restore, protect, and beautify a tooth. With so many uses, it's no surprise that our Mississauga dentists have provided plenty of dental crowns to patients with both restorative and cosmetic needs. If your tooth is damaged, misshapen, or discoloured, a dental crown provides a long-lasting and comfortable solution. Let the dentists at Meadowvale Dental Group create your custom restoration today!
A Match so Perfect, You Won't Know It's Not Your Own Tooth!
Our dental team can provide you with a range of options for your dental crowns. We work with a professional dental laboratory to custom-design and manufacture your crown as a perfect fit for your current tooth. Material options such as porcelain and zirconia allow us to match the shade of the crown to your nearby teeth, creating a seamless look that doesn't draw attention.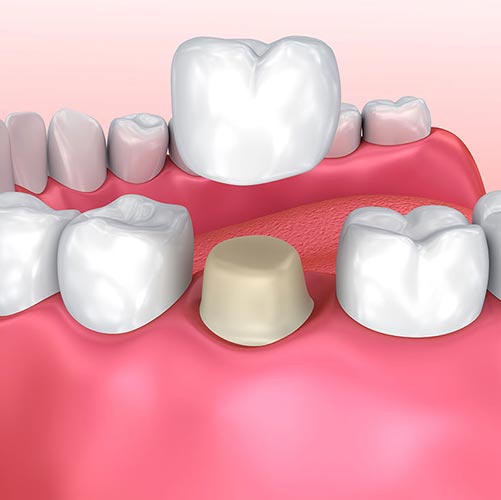 What to Expect When Receiving Dental Crowns
Dental crowns are "tooth-shaped" caps that can be placed over an existing natural tooth in two appointments. At your first appointment, we'll take an impression of the tooth or teeth requiring crowns. Then we will prepare the tooth for the crown by removing some of the outer tooth structure. This allows us room to place the crown in a position where it will be secure and completely aligned with the nearby teeth. When you leave, we'll have your information sent to the dental lab, where your crown(s) will be manufactured. At your second appointment, our experienced dental team will work to ensure the crowns are perfectly fitted and cement them into place for a lasting restoration.
When Was Your Last Visit?
Book Your Dental Appointment Today