Invisalign® Treatment in Mississauga
Invisalign Provider in Mississauga
In the past, the only option available to patients with misaligned teeth and jaws was metal braces. Today, Invisalign treatment provides an alternative to braces. These clear plastic aligners can often achieve similar results but without the hassle. Simply pick up your new aligners every couple of weeks and let our orthodontists monitor and adjust your treatment progress. It's really that easy!
Why Do Patients Choose Invisalign Clear Aligners?
Invisalign treatment is a very popular treatment option for our patients for many reasons. First and foremost, patients are drawn to the virtually invisible aligners, which give them the ability to smile without being self-conscious, even while they're receiving orthodontic treatment.
The aligners can also be easily removed from the mouth, allowing for more flexibility in their day-to-day (and easier cleaning!) Finally, the trays are comfortable and fit perfectly, without causing pain or discomfort to the teeth or soft tissues.
We are pleased to be an Invisalign Provider in Mississauga. Ask our highly qualified orthodontists about Invisalign treatment and learn if you are a candidate today!
We are a Gold Plus Invisalign Provider
Dr. Nima Mir is a Gold Plus Invisalign Provider, which is because of their level of education and experience with Invisalign.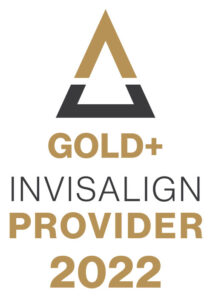 When Was Your Last Visit?
Book Your Dental Appointment Today