Root Canals in Mississauga
As dentists in Mississauga who care about your comfort and wellbeing, one of our greatest goals is helping you keep your natural teeth for as long as possible. Although there are excellent restorative solutions we can use when teeth can't be saved, we always start with the most minimally invasive solution. In cases of tooth decay and infection inside the tooth, this typically begins with a root canal.
What to Expect in a Root Canal Procedure
Our dentists in Mississauga perform root canals regularly to help ensure our patients keep their teeth for as long as possible. A root canal sounds invasive, but it is often not as lengthy, uncomfortable, or painful as people imagine. Our dentists will begin by providing you with a numbing agent, followed by a local anesthetic to numb the area.
Once you're fully numb, we'll drill a tiny hole in the top of your tooth to access the root structures inside. From there, we'll clean and disinfect the tooth pulp, sealing the top with a filling or crown to protect the tooth. At the end of the day, you won't need to have dental bridges or implants placed to replace a missing tooth; instead, you can leave with the same tooth you came in with.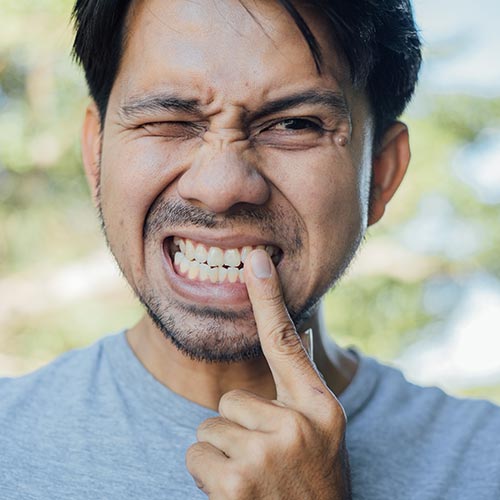 Come to Us with Tooth Pain, Leave Feeling Better
If you need a root canal, chances are good that you'll know it before we do. Regular tooth pain and sensitivity can signal extreme tooth decay and infection. If this happens, don't leave it unattended. Infections in the teeth can lead to more serious outcomes, including abscesses, which are painful infections that can spread to the jaw, face, and neck. As soon as you experience tooth pain, get in touch with our dental office in Mississauga to book an appointment.
When Was Your Last Visit?
Book Your Dental Appointment Today