Comprehensive &
New Patient Oral Exam in Mississauga
Oral & Dental Examinations Near You
Although pain and discomfort can usually tell you when there is a new problem with your oral health, we're able to do one better; we can help you prevent those problems from happening in the first place! Regularly scheduled oral exams give us the time we need to diagnose and assess conditions while they can still be prevented or easily treated. Don't let years pass you by before your next dental exam!
Keeping Up to Date with Your Oral Health
We keep tabs on your oral health so you don't have to! Our dental team keeps painstaking records of every examination, cleaning, treatment, and diagnosis. This allows us to provide highly personalized care every time you come in. We can track your progress and let you know how to continually maintain and improve your oral health.
Book Your Next Oral Exam Now
Time passes quickly, and before you know it, you're well overdue for an oral exam. If it's been a while, or if you have been experiencing changes, pain, or discomfort, be sure to book your next dental appointment in Mississauga with Meadowvale Dental Group.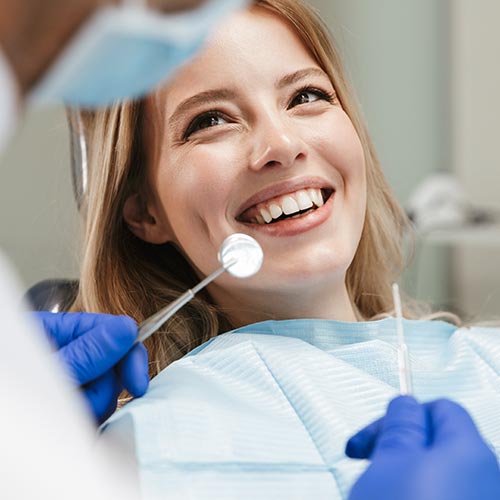 Dental Hygiene Appointments
Dental Cleanings in Mississauga
Meadowvale Dental Group is here to keep your mouth healthy and fresh at every appointment and between appointments. Our team of dentists and dental hygienists in Mississauga bring you decades of experience in cleaning, polishing, and protecting your teeth. Your appointment will be geared toward your specific dental needs and we'll pay attention to the areas that need it most.
Gentle Cleaning for Your Teeth
Our team of dental hygienists has plenty of experience in providing detailed cleaning that gets into every space. However, we also know that dental cleanings are not always the most comfortable part of your day. With that in mind, we strive to make sure you feel at ease throughout your appointment by answering questions, letting you know what to expect in advance, and using every tool and method available to relieve discomfort. If you experience anxiety or fear that is preventing you from a dental cleaning, we can also discuss sedation as an option—reach out to us directly to learn more.
Visit Our Experienced Dental Hygienists in Mississauga
When it comes to dental cleanings, it's important that you trust and like the people who are delivering care. Our dental hygienists in Mississauga are friendly, reliable, and incredibly experienced. We've provided thorough dental cleanings and dental hygiene advice to patients for years. We look forward to providing the same for you and your family.
When Was Your Last Visit?
Book Your Dental Appointment Today